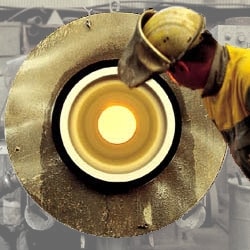 LBI foundry and machine shop originally made its reputation on the service we provided to local companies in Europe. Today, our group of LBI Foundries keeps this philosophy of providing high quality service and fulfilling our customers' casting and machining needs, all over the world. This is achieved by giving well-targeted technical and commercial offers with an aim to optimize costs and provide innovative technical solutions.
Since 1919, the range of high quality centrifugal castings produced by the group LBI Foundries has been continually expanded. After centrifugal casting of bronze parts, LBI also started the production of parts in stainless steels and in Aluminum, for the most demanding applications and customers.
In addition, LBIs sand casting subsidiaries (companies SRI and INOXYDA), bring their specific know-how for the sandcasting of copper based alloys, to complete a rich portfolio and enable the group LBI Foundries to offer a One-Stop-Shop solution for castings and machining to a wide variety of industrial sectors. Each company of the group LBI Foundries is certified by the quality management system ISO 9001.
---