LBI awarded at the Midest Fair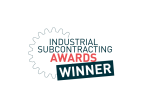 We are proud to announce that we have been awarded the "International Sales" trophy during the industrial subcontracting Fair Midest 2016 in Paris.
This is thanks to the strong performance of our export sales market which has grown to 85% in 2015.
We sincerely thank our international customers and sales partners, which has enabled us to gain this recognition and award.
Article from Midest Website :
https://www.midest.com/fr/Exposants/2325647/LBI/Produits/1092593/85-des-ventes-2015-realisees-a-linternational