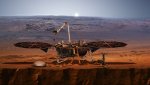 The first interplanetary mission named InSight departed May 5th aboard the rocket Atlas V5. What's the mission objective ? To understand the formation and evolution of Mars and investigate its interior structure.
To do so, InSight is equipped with a seismometer SEIS and its measurements will provide a glimpse into the planet's internal activity. SEIS carries parts in AluSic® and Exium®, manufactured by the company LBI.
SEIS seismometer view

Sphere opened up, showing the two hemispherical shells as well as the Very Broad Band pendulums
AluSic® is used as an optical and electronic support and Exium® as a high frequency vibration damper. The two pieces in Exium® are 12mm for 20mm long and those in Alusic® are 55mm in diameter by 8mm thick.
These two alloys, developed by LBI for very special applications, have extraordinary properties.
See you on November 26th for the landing !
In the meantime, our sales team is at your disposal if you want to know more about this project, our special alloys or our centrifugal foundry capabilities.