LBI : Opening of our new heavy parts' centrifugal casting machine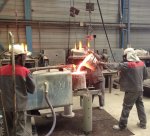 Our 'heavy parts' casting foundry (Tecnacem) is now equipped with a new centrifugal casting machine which is dedicated to the production of medium sized and heavy parts. This machine can cast parts with an outside diameter up to 1.600 mm x length up to 2.300 mm. Maximum casting weight depends on our melting equipment, currently 20 tons.
The first part, a pressure nut for a steel mill, was cast on 12/05/2017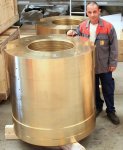 This new machine will enable us to cast more heavy parts and improve our flexibility and response time for the production of large & heavy parts.
At the present time, we can propose shorter delivery times for large parts, such as rings above OD 3.000 mm and bushings, bearings, nuts or tubes whose weight is in excess of 6 tons.
All materials in our catalogue range (standards or specials), such as copper based alloys, stainless steels or aluminium alloys, may be cast using this machine.
Thanks to our wide range of machining equipment and cutting edge technology together with our highly skilled workforce, parts can be supplied either rough machined (tolerances +/- 1 mm – Ra 12.5 µm) or fully machined as per final drawings and ready to be assembled.
Our sales team remain at your disposal if you should have any further question, and they would be happy to receive your enquiries.