New Leaflet LBI Foundries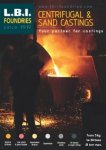 The new leaflet for the group LBI Foundries is published. It introduces our activities and the rich product portfolio of our main subsidiaries : LBI for the centrifugal castings and SRI or INOXYDA for the sand castings.
Feel free to contact us for more information about the group and its subsidiaries.