We are looking for talented sales agents who will act as our local partners to promote LBI business : selling high-quality castings.
• Group of 5 casting foundries with integrated workshop
• 100% made in France
• Almost one century of casting (created in 1919)
• Family owned business – able to make fast decisions
• Flexible company with valuable know-how and ambitious guidelines
• Experimented sales team with a strong team spirit
• Skilled in selling casting products worldwide (80% export share)
• Main applications : shipbuilding, pumps & valves, machine building, electrical equipments, hydro power & turbines…
Key responsibilities :
• Representing LBI
➜Be in charge of clients, respond to incoming inquiries, organize visits and phone calls – build a business relationship with them
➜ Negotiate the conditions, finalize the deals – be in daily touch with the clients from your affected country

• Seeking actively for new opportunities on the market
➜ Manage the prospects and define the prospecting and sales strategy together with LBI
➜ Follow the tendency in the market in your country (market analysis)

• Communicating with LBI office
➜ Organize business trips for LBI agents in your country, manage transport, visits on spot and customers
➜ Regular reporting to LBI about inquiries, the progress of an offer, current negotiation and business opportunities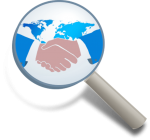 • Native speakers from Russia, Poland, Ukraine, Turkey, Mexico, Sweden, Norway & Denmark with fluent level of English
• Proactivity with a positive attitude towards clients – able to demonstrate customer focus and be tenacious in the pursuit of business
• Strong interest and curiosity for the industry with appetency on mechanical engineering
• Strong communication and verbal skills – able to build strong internal and external relationships
• Self-motivated person who is looking for new challenges – able to negotiate, handle objections and remain calm under pressure
• Well-organised with the ability to demonstrate effective planning, time management and organisational skills

Interested in working with us ?
Please send your CV per email to agentneeded@lbi.fr
We will contact you very soon !